The Mrs Fields Sugar Cookie Recipe is one of the fascinating cookie recipes for a beloved classic that has been enjoyed by families for generations. This step-by-step guide provides all the information you need to make these delicious treats in the comfort of your own kitchen. From the necessary equipment to the ingredients list and detailed instructions, you'll be able to bake up a batch of perfect sugar cookies in no time.
If you're in the mood for a delicious, no-fuss meal, look no further than this easy-to-follow recipe: 7 Inch Cheesecake Recipe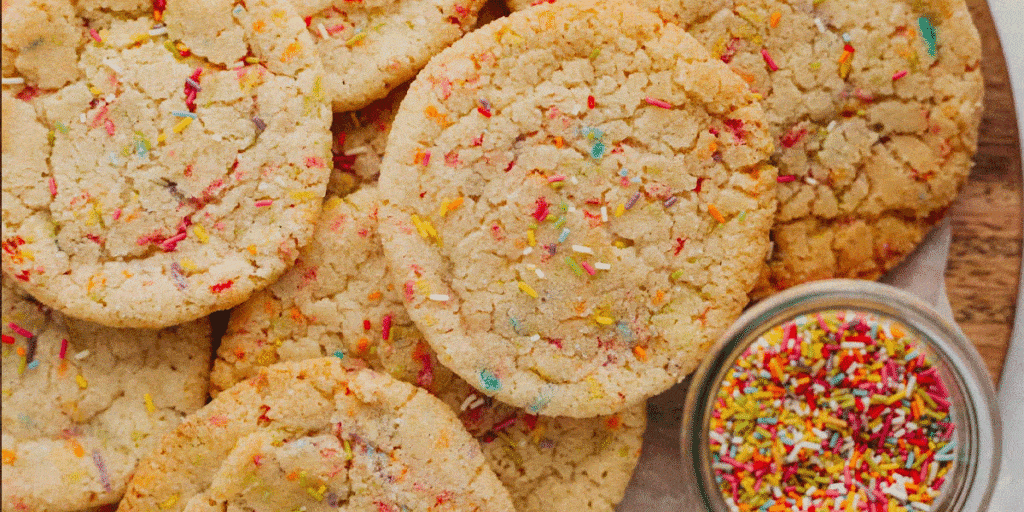 Equipment needed
A large mixing bowl
An electric mixer
Measuring cups and spoons
A rolling pin
Cookie cutters
Parchment paper
Baking sheets.
Ingredients
2 ½ cups (300g) all-purpose flour
1 teaspoon (5g) baking powder
1 teaspoon (5g) baking soda
1 teaspoon (6g) salt
1 cup (227g) unsalted butter, softened
1 ¼ cups (250g) granulated sugar
2 large eggs
2 teaspoons (10ml) vanilla extract
¼ cup (60ml) milk
Instructions
In a large mixing bowl, combine the dry ingredients: 2 ½ cups (300g) of all-purpose flour, 1 teaspoon (5g) of baking powder, 1 teaspoon (5g) of baking soda, and 1 teaspoon (6g) of salt. Whisk everything together until you have a powdery party of flavor.
In another bowl, whip up a storm of buttery goodness by creaming 1 cup (227g) of softened unsalted butter and 1 ¼ cups (250g) of granulated sugar until they're as light and fluffy as a cloud on a summer's day. Next, add in 2 large eggs, one at a time, followed by 2 teaspoons (10ml) of vanilla extract. Trust us, your nose will thank you for that sweet aroma.
Slowly add the dry ingredients to the wet ingredients, stirring on low speed until everything is just combined. Add ¼ cup (60ml) of milk and mix until the dough comes together. That's what we call teamwork.
Split the dough into two equal parts and roll each part out on a floured surface until it's about ¼ inch thick. We're all about equality here.
It's time for the fun part: cookie cutters! Cut out your cookies with a variety of shapes and sizes, placing them on the prepared baking sheets. Keep in mind that diversity adds flavor to our existence.
Pop those cookies into the oven for 8-10 minutes, or until the edges are lightly golden. Pro tip: don't forget to set a timer! Once they're out, let the cookies cool on the baking sheets for a few minutes before transferring them to a wire rack to cool completely. Patience is a virtue, but we won't judge if you sneak a cookie or two while they're still warm.
Nutrition facts
Each serving of Mrs. Fields sugar cookies (one cookie) contains approximately 120 calories, 6g fat, 15g carbohydrates, and 1g protein.
Variations on Mrs. Fields Sugar Cookie Recipe: Creative Twists on a Classic Treat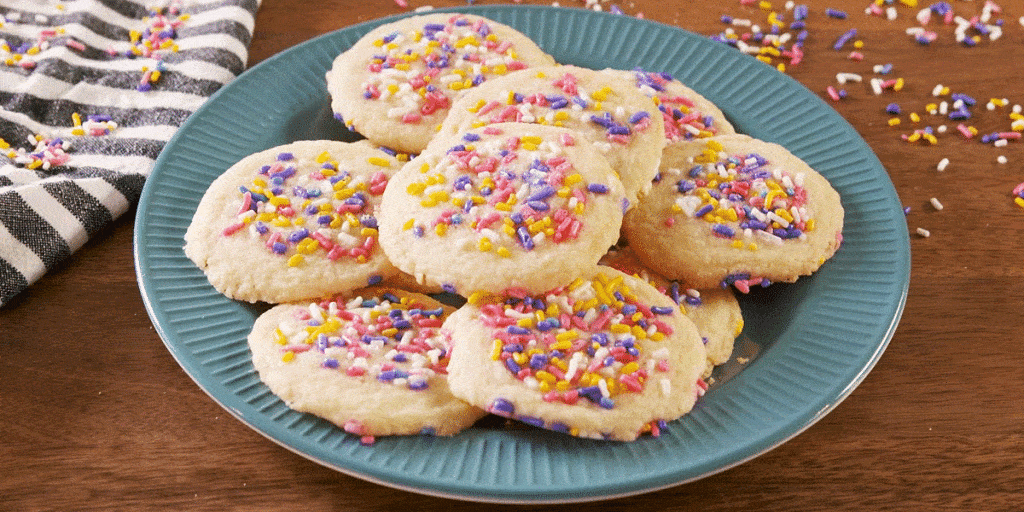 Want to impress your friends and family with your cooking skills, but don't want to spend all day in the kitchen? This recipe for a perfect meal is the answer: Lilikoi Cheesecake Recipe
Firstly, consider classic variations such as the addition of chocolate chips, sprinkles or other mix-ins. The inclusion of mini chocolate chips will provide a deliciously decadent twist to your cookies, while colorful sprinkles will add a fun pop of texture and color.
When the seasons change, so too can your sugar cookies. For example, for a warm and comforting fall treat, incorporate seasonal spices such as pumpkin spice or cinnamon. Alternatively, add red and green sprinkles or festive edible glitter during the winter holidays for a fun and festive touch.
You can explore specialty variations such as experimenting with different types of sugar or alternative flours to create unique and flavorful cookies. You could swap granulated sugar for brown sugar, creating a richer and more caramel-like flavor.
Or, try using almond flour for a gluten-free option with a nutty and satisfying texture. You can even experiment with the shape and size of your cookies by using cookie cutters to create fun shapes or by making miniature versions for bite-sized treats.
Tips and Tricks for Perfecting Mrs. Fields Sugar Cookie Recipe: Common Mistakes to Avoid and Expert Advice
To avoid common mistakes, it's important not to over-mix the dough, which can lead to dense and tough cookies. Instead, mix the ingredients just until they're combined. Additionally, ensure that your cookies have cooled completely before decorating to avoid any melting or sliding of the icing.
According to Emma Smith, achieving the perfect texture requires the use of room temperature ingredients and chilling the dough for at least an hour before baking. This helps the cookies to spread evenly and maintain their shape during baking, resulting in soft and chewy cookies that are sure to impress.
When it comes to decorating sugar cookies, the possibilities are endless. For a professional touch, try using royal icing and piping techniques to create intricate designs. Alternatively, add some sparkle with edible glitter or pearls. Be creative and let your imagination run wild!
Storing sugar cookies properly is crucial to ensure their freshness and flavor. Keep them in an airtight container at room temperature for up to a week or in the freezer for up to three months. When serving, add a touch of elegance by arranging them on a decorative platter or sprinkling them with powdered sugar.
Conclusion
For those looking to elevate their baking skills beyond the Mrs. Fields Sugar Cookie Recipe, be sure to check out Peggy Ann Bakery website. With their expertly crafted pastries and delightful treats, you'll find a wide range of delectable options to satisfy any sweet tooth. Peggy Ann Bakery is the perfect destination for all your dessert recipe needs.