Get ready to impress your guests this holiday season with a delicious Little Debbie Christmas Tree Cheesecake Recipe. By following the cheesecake recipes, a festive dessert is sure to be a hit at any holiday gathering, and with our helpful tips and easy-to-follow recipe, you'll be able to make it with ease. Get ready to indulge in this bakery delight that will leave everyone wanting more!
If you're in the market for another easy-to-follow recipe, give this one for a perfect meal a chance: Brie Cheesecake Recipe
The History of Christmas Tree-Shaped Desserts
The origins of the Christmas tree-shaped dessert can be traced back to the 16th century in Germany, where people would celebrate the holiday season by decorating trees with apples, nuts, and other sweets. These desserts became a staple of Christmas celebrations across Europe and eventually made their way to America, where they continue to be a popular holiday treat.
Today, there are countless variations of the Christmas tree-shaped dessert, from sugar cookies and gingerbread houses to layered cakes and cheesecakes. Many people enjoy making these desserts with their families and friends, creating new memories and traditions each year.
One tip for those looking to make a Christmas tree-shaped dessert is to use a template or cookie cutter to ensure that the dessert is evenly shaped. And if you're short on time, consider making the dessert in advance and storing it in the fridge or freezer until you're ready to serve it.
A Tasty Recipe Guide with Easy-to-Follow Steps and Yummy Ingredients!
With a creamy cheesecake filling and a crunchy, chocolatey crust made from your favorite Little Debbie snacks, this dessert is sure to be a hit with everyone at your holiday gathering. Here's what you'll need to make it:
Ingredients:
1 box of Little Debbie Christmas Tree Cakes
1 and 1/2 cups of graham cracker crumbs
1/4 cup of melted butter
3 packages of cream cheese, softened
1 cup of granulated sugar
1 teaspoon of vanilla extract
3 eggs
Green food coloring
Whipped cream
Assorted holiday sprinkles
Now, let's get started with the step-by-step instructions:
Preheat your oven to 350°F.
In a bowl, combine the crushed Little Debbie Christmas Tree Cakes with the graham cracker crumbs and melted butter. Ensure that the mixture is well mixed, and then press it into the bottom of a 9-inch springform pan.
In a separate bowl, beat the cream cheese, sugar, and vanilla extract until smooth. Add the eggs one at a time, mixing well after each addition.
Add a few drops of green food coloring to the mixture until it reaches your desired shade of green. Mix well.
Pour the cheesecake mixture over the crust and bake for 35-40 minutes, or until the edges are set and the center is slightly jiggly.
Let the cheesecake cool to room temperature, then refrigerate for at least 2 hours or overnight.
Once the cheesecake is chilled, use whipped cream to pipe a tree shape onto the top of the cheesecake. Decorate the tree with assorted holiday sprinkles.
Slice and serve your delicious Little Debbie Christmas Tree Cheesecake, and enjoy the festive flavors of the season!
Tips and Tricks for Making the Perfect Cheesecake
Searching for a recipe that's easy to follow? This one for a perfect meal might be just what you need: 7 Inch Cheesecake Recipe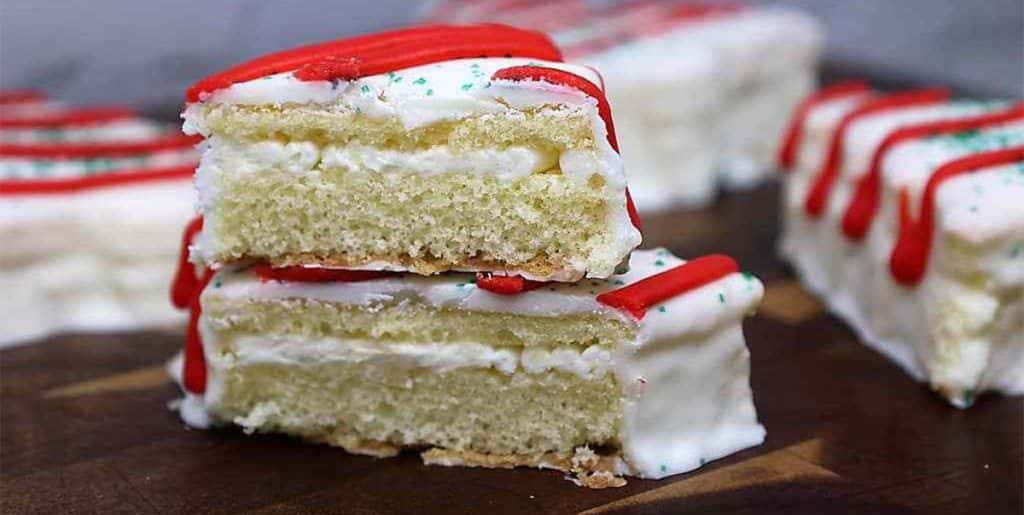 First and foremost, it's important to use room temperature ingredients. This means letting your cream cheese, eggs, and sour cream sit out on the counter for at least an hour before you start baking. Room temperature ingredients will blend more easily and create a smoother texture.
Baking a perfect cheesecake requires careful monitoring to avoid overbaking, which can result in a dry and crumbly texture. To elevate your cheesecake, you can experiment with various crusts such as a graham cracker, chocolate cookie, or nutty crust made with almonds or pecans. Adding different toppings like fresh fruits, chocolate or caramel sauce, or even your favorite candy can further enhance the taste. To add a unique twist, try infusing your cheesecake with cinnamon, nutmeg, espresso, or matcha powder. With endless possibilities, there are countless ways to make your cheesecake stand out and indulge your taste buds.
Finally, don't be afraid to get creative with your cheesecake toppings! Whether you prefer fresh fruit, chocolate sauce, or whipped cream, there are endless possibilities for customizing your cheesecake and making it your own.
Decorating Your Little Debbie Christmas Tree Cheesecake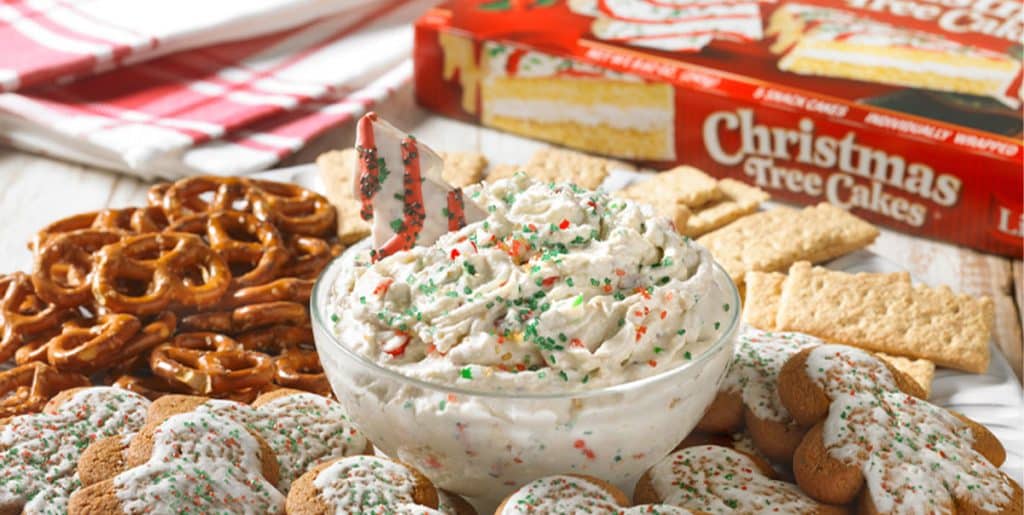 First, consider adding some holiday-themed toppings. Crushed candy canes or gingerbread cookies make great additions, as do festive sprinkles or edible glitter. You could even add a drizzle of caramel or chocolate sauce for an extra indulgent touch.
Next, think about the presentation. Place your cheesecake on a pretty platter or cake stand and surround it with fresh greenery, pinecones, or ornaments for a touch of holiday flair. You could even wrap a ribbon around the base of the stand to tie in with your other holiday decorations.
If you want to take your cheesecake decorating to the next level, try using a piping bag to add swirls of whipped cream or cream cheese frosting to the top of the cake. You could also use small cookie cutters to cut festive shapes out of thinly sliced fruit, like strawberries or kiwi, and arrange them on top of the cheesecake in a festive pattern.
Our last message for you
Making a Christmas tree-shaped cheesecake can be a delightful and impressive dessert for any holiday celebration. By following these simple tips and tricks, you can make a perfect cheesecake every time. Don't forget to showcase your creativity and personalize your cheesecake with unique decorations.
Whether you're baking for a holiday party or just for fun, your loved ones will surely appreciate the effort and taste of your homemade cheesecake. For more baking inspiration, consider checking out Peggy Ann Bakery, which offers a wide range of delicious baked goods perfect for any occasion.