Rosanna Pansino has certainly raised the bar when it comes to chocolate chip cookies, and her recipe has taken the baking world by storm. We'll take a closer look at how to make these delectable treats, along with some tips and tricks to help you perfect them. So, roll up your sleeves and get ready to indulge in the sweetest, most satisfying Rosanna Pansino chocolate chip cookie recipe. Try more delicious cookie recipes!
In search of a hassle-free recipe? Consider trying this one for a perfect meal: Kirkland Chocolate Chip Cookie Recipe: How to Make the Perfect Batch of Cookies
Step-by-Step Guide – Rosanna Pansino Chocolate Chip Cookie Recipe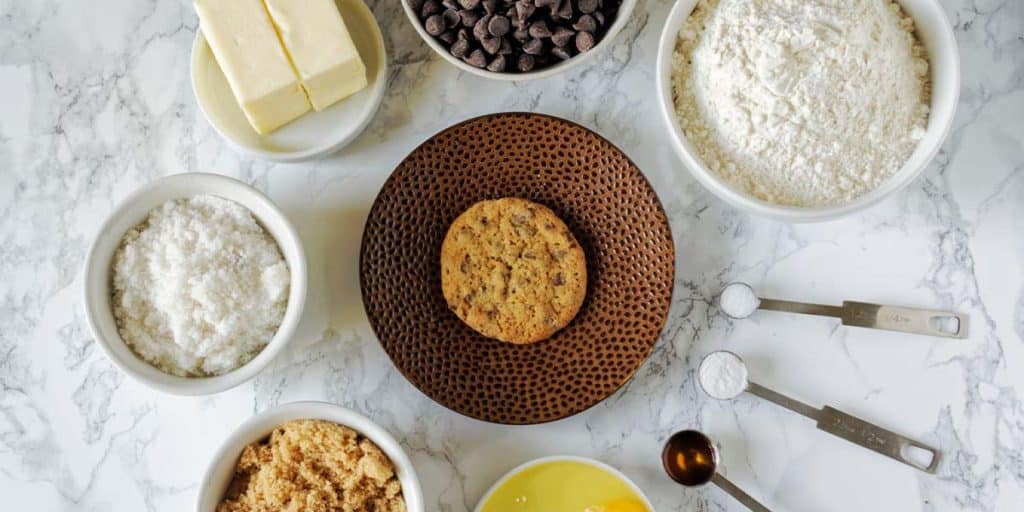 Ingredients:
1 cup (226g) unsalted butter, softened
1 cup (200g) granulated sugar
1 cup (200g) brown sugar
2 large eggs
2 teaspoons (10ml) vanilla extract
3 cups (375g) all-purpose flour
1 teaspoon (5g) baking soda
1/2 teaspoon (2.5g) salt
2 cups (340g) semisweet chocolate chips
Equipment:
Large mixing bowl
Electric mixer
Measuring cups and spoons
Rubber spatula
Baking sheet
Parchment paper
Cookie scoop
Wire rack
Instructions:
To embark on a tantalizing adventure, preheat your oven to a piping hot 375°F (190°C).
In a spacious mixing bowl, use an electric mixer on medium speed to blend 1 cup (226g) of softened butter, 1 cup (200g) of granulated sugar, and 1 cup (200g) of brown sugar until they transform into a fluffy and light texture. This process typically takes 2-3 minutes of consistent mixing.
Next, add the eggs one at a time, making sure to beat them well after each addition. To boost the flavor profile, stir in some magical vanilla extract (2 teaspoons or 10ml).
In another bowl, whisk together the enchanting all-purpose flour (3 cups or 375g), baking soda (1 teaspoon or 5g), and salt (1/2 teaspoon or 2.5g).
Now comes the fun part, gradually adding the dry ingredients to the wet ingredients while mixing on low speed. Keep mixing until they're just combined.
The showstopper of this recipe is the addition of the alluring semisweet chocolate chips (2 cups or 340g), which should be folded in with a rubber spatula. Don't be shy, make sure to incorporate them well.
With a cookie scoop, plop balls of the dough onto a baking sheet lined with parchment paper, spaced about 2 inches (5cm) apart. This will ensure that they don't stick to each other and get all cozy.
Bake the cookies for 10-12 minutes or until the edges are a lightly golden brown. Be sure to resist the temptation to eat them immediately out of the oven, you need to let them cool on the baking sheet for 5 minutes.
Once they've had their moment, transfer the heavenly delights to a wire rack to cool completely. Get ready to indulge in some cookie bliss!
Nutrition Facts:
Each serving (2 cookies) contains approximately 285 calories, 15g of fat, 37g of carbohydrates, and 2g of protein. However, remember that these are treats and should be enjoyed in moderation.
Take Your Chocolate Chip Cookies to the Next Level: Exciting Variations on the Rosanna Pansino Recipe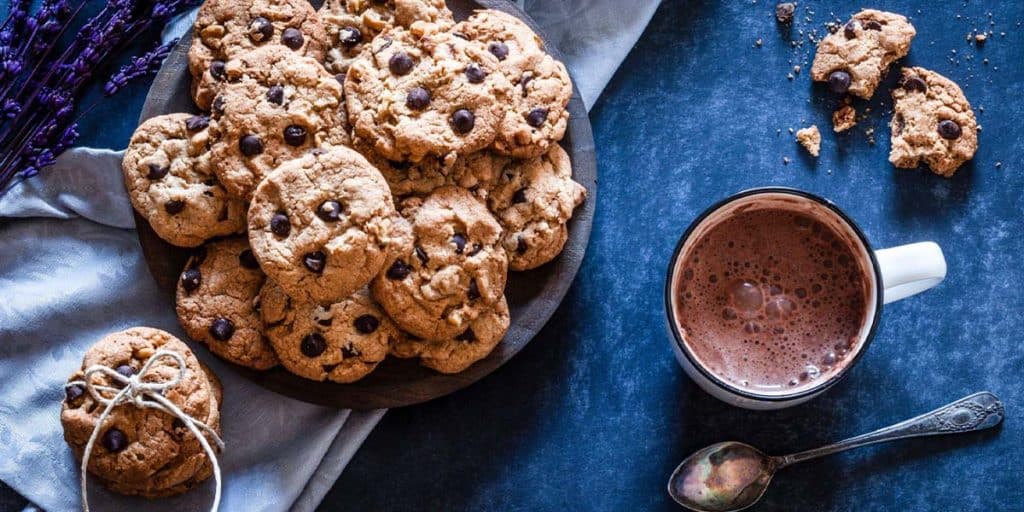 Double Chocolate Chip Cookies – add 1/2 cup (85g) of cocoa powder to the dry ingredients for a rich, chocolatey twist.
Peanut Butter Chocolate Chip Cookies – replace half of the butter with peanut butter (1/2 cup or 128g) and add 1/2 cup (85g) of chopped peanuts to the dough for a deliciously nutty flavor.
Oatmeal Raisin Chocolate Chip Cookies – add 1 cup (90g) of rolled oats and 1/2 cup (75g) of raisins to the dough for a chewy, oat-filled cookie with a hint of cinnamon.
Mint Chocolate Chip Cookies – replace the vanilla extract with 1 teaspoon (5ml) of peppermint extract and fold in 1 cup (170g) of chopped Andes mints for a refreshing and chocolatey treat.
S'mores Chocolate Chip Cookies – fold in 1 cup (150g) of mini marshmallows and 1 cup (150g) of crushed graham crackers to the dough for a gooey, campfire-inspired cookie.
Tips and Tricks for Perfecting Rosanna Pansino Chocolate Chip Cookies
If you want a straightforward recipe to follow, give this one for a perfect meal a shot: McDonald's Chocolate Chip Cookies Recipe: How to Make Them at Home
Use room temperature ingredients – take your butter and eggs out of the fridge at least an hour before baking to ensure they mix together smoothly and evenly.
Chill your dough – after mixing your dough, let it chill in the fridge for at least 30 minutes before baking to prevent your cookies from spreading too much.
Measure your ingredients precisely – use a digital kitchen scale to measure your ingredients by weight rather than volume to ensure consistency in your baking.
Use high-quality ingredients – use the best butter, flour, and chocolate chips you can find for the best flavor and texture.
Don't overbake – keep an eye on your cookies and remove them from the oven when the edges are golden brown and the centers are still slightly underdone for the perfect chewy texture.
Conclusion
With these tips and tricks, you're well on your way to perfecting the Rosanna Pansino chocolate chip cookie recipe. Remember to use high-quality ingredients, measure your ingredients precisely. And if you're ever in the mood for a classic chocolate chip cookie but don't feel like baking, be sure to check out Peggy Ann Bakery for some delicious options.