Looking for delicious and easy-to-make cake recipes that will impress your family and friends? Look no further than the Del Monte Fruit Cocktail Cake recipe. This dessert combines the sweet, juicy flavors of Del Monte fruit cocktail with the light and fluffy texture of cake.
With just a few basic ingredients and some simple kitchen equipment, you can create a masterpiece that will delight your taste buds. Follow our comprehensive guide to making the perfect Del Monte Fruit Cocktail Cake recipe, and you'll be sure to impress everyone at your next gathering.
Searching for a recipe that's easy to follow? This one for a perfect meal might be just what you need: Ina Garten Coconut Cake Recipe: A Slice of Paradise
A Comprehensive Guide to Making the Perfect Del Monte Fruit Cocktail Cake Recipe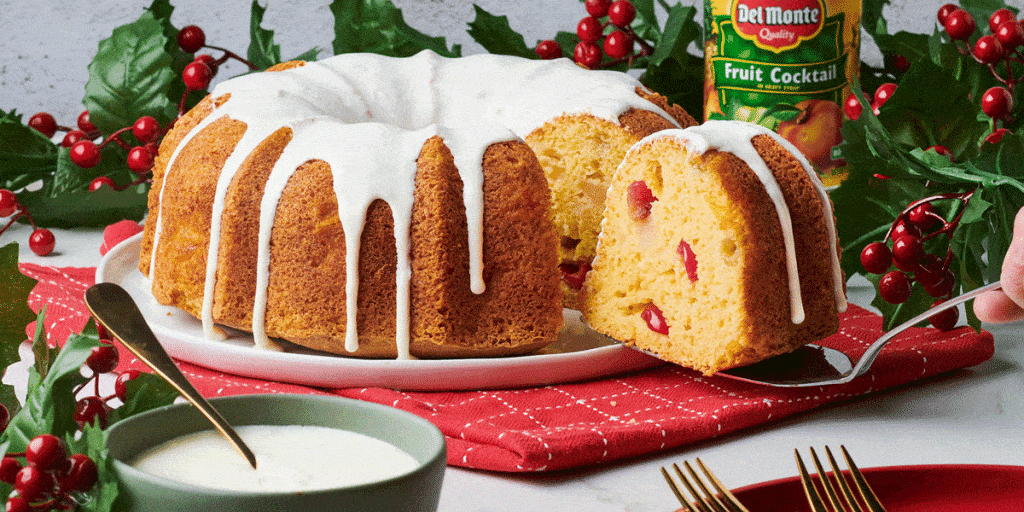 Are you ready to create a delightful and delicious cake that your family and friends will love? If yes, then let us guide you through the process of making the perfect Del Monte Fruit Cocktail Cake recipe. This cake is a delectable dessert that combines the sweet taste of Del Monte Fruit Cocktail with the fluffy texture of cake. Follow our comprehensive guide, and you will end up with a masterpiece!
To make this cake, you will need some essential ingredients. Here is a list of all the necessary items you need:
2 cans of Del Monte Fruit Cocktail (drained, 15.5 oz each)
2 cups of all-purpose flour
1 cup of sugar
2 large eggs
2 teaspoons of baking soda
1/4 teaspoon of salt
1 teaspoon of vanilla extract
Before you begin baking, ensure you have all the necessary kitchen equipment. You will need:
Two mixing bowls
A whisk or electric mixer
Measuring cups and spoons
A 9×13 inch baking pan
Cooking spray or butter to grease the pan
Now that you have all the ingredients and equipment, it's time to start baking. Follow these easy steps to make your Del Monte Fruit Cocktail Cake:
Begin by preheating your oven to a toasty 350°F (175°C), and generously grease your baking pan, allowing your cake to effortlessly slip out once it's ready.
In a mixing bowl, bring together the flour, sugar, baking soda, and salt, creating a perfect medley of dry ingredients that will form the foundation of your cake.
In another mixing bowl, whisk the eggs and vanilla extract, masterfully blending these two essential ingredients to create a rich and creamy mixture.
Now it's time to add the star of the show, the Del Monte Fruit Cocktail, to the egg mixture. Watch as the fruit cocktail dances around, coating itself in the mixture, becoming more vibrant and flavorful than ever before.
Pour the wet ingredients into the dry mixture, stirring gently until the batter becomes a silky, smooth texture that is a feast for your eyes.
Pour your masterpiece into the pre-greased pan and gently slide it into the oven. Sit back and wait as the aroma of your creation begins to fill your kitchen, enticing your senses.
Bake your cake for 35-40 minutes or until the cake is a magnificent golden brown, and a toothpick inserted into the center comes out clean. You can almost taste the sweetness already.
Finally, let your cake cool, allowing it to become the perfect temperature to satisfy your cravings. Then slice and savor every bite of this exquisite creation that you have crafted with your own two hands. Enjoy!
Nutrition Facts: This cake recipe yields 12 servings. Each serving contains approximately 300 calories, 60 grams of carbohydrates, 4 grams of fat, and 5 grams of protein.
Delicious Variations of the Classic Del Monte Fruit Cocktail Cake Recipe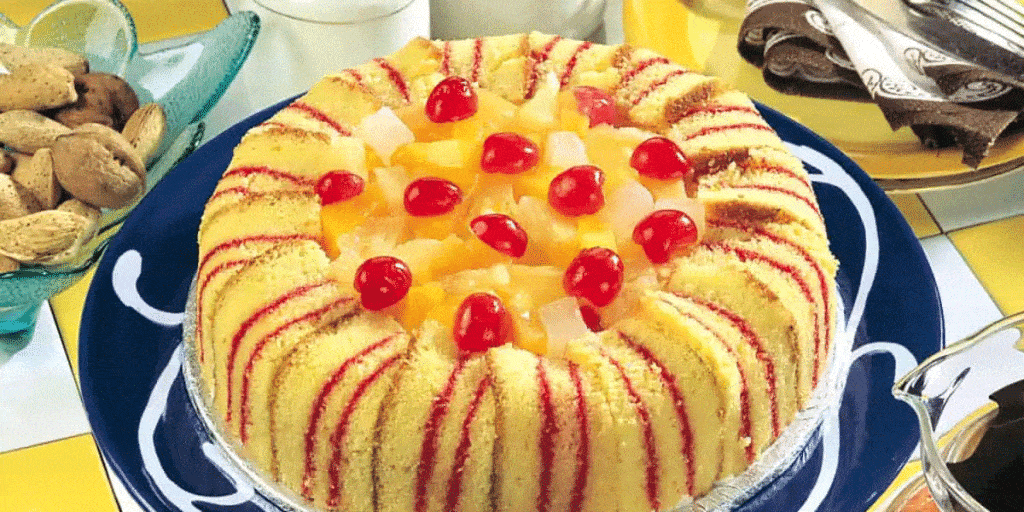 If you're seeking yet another effortless recipe to try, consider this one for a perfect meal: Grandma's Fruit Cake Recipe: A Holiday Tradition
One variation to try is to add a layer of creamy vanilla pudding between the layers of cake. The smooth and velvety texture of the pudding perfectly complements the sweetness of the fruit cocktail, creating a delectable contrast of flavors and textures.
Another tasty twist on the classic recipe is to substitute the fruit cocktail for other canned fruits, such as peaches or pears. This adds a unique and refreshing flavor profile to the cake, and you can even experiment with mixing different fruits together for an even more complex taste sensation.
For those who love a bit of crunch in their desserts, try adding a handful of chopped nuts, such as almonds or pecans, to the cake batter. This adds a satisfying crunch and nutty flavor to the cake, making it even more irresistible.
Finally, for a more decadent version of the classic recipe, why not top the cake with a layer of whipped cream and some chocolate shavings? The creamy richness of the whipped cream perfectly balances the sweetness of the fruit cocktail, while the chocolate adds an indulgent touch of luxury to this already delicious dessert.
Tips and Tricks for Baking the Best Del Monte Fruit Cocktail Cake Recipe
With a few simple tips and tricks, you can create a perfect dessert that will impress your family and friends. Here are some valuable tips and tricks to follow when baking the best Del Monte Fruit Cocktail Cake recipe.
Ingredient Selection: Selecting high-quality ingredients is critical to the success of this recipe. Choose the best Del Monte fruit cocktail that is rich in flavors and textures. Using fresh and high-quality ingredients will enhance the overall taste and texture of the cake.
Mixing Techniques: When making the cake batter, it is essential to follow the recipe's order for adding ingredients. Start with mixing the dry ingredients, followed by the wet ingredients, and lastly, fold in the Del Monte fruit cocktail. This will ensure that the batter is well-mixed and has a uniform texture, giving the cake a consistent taste.
Baking Tips: One of the most critical aspects of baking a cake is preheating the oven to the precise temperature before commencing the baking process. In particular, the Del Monte Fruit Cocktail Cake recipe necessitates a temperature of 350°F to achieve optimal results.
To ensure that the cake is cooked to perfection, it is recommended to check the doneness of the cake by inserting a toothpick into the center. If the toothpick emerges clean, it is a sign that the cake is fully baked. However, it is worth noting that the baking duration may vary depending on the oven's performance, but typically it takes between 30-35 minutes.
Serving Suggestions: To make your Del Monte Fruit Cocktail Cake more visually appealing and tasty, add a layer of frosting or topping that complements the flavors of the fruit cocktail. You can use whipped cream or cream cheese frosting, or sprinkle some powdered sugar on top of the cake. You can also add fresh fruit on top, such as strawberries or blueberries, to give it an extra pop of flavor and color.
Conclusion
The Del Monte Fruit Cocktail Cake recipe is a classic dessert that has been enjoyed by generations of families. In fact, it was even a popular menu item at the iconic Peggy Ann Bakery in New York City. With its perfect balance of sweet fruit and light cake, this recipe is sure to become a favorite in your household as well. Whether you stick to the classic recipe or experiment with some of the delicious variations and serving suggestions we've provided, we're confident that you'll love this delightful dessert. So why not whip up a batch of Del Monte Fruit Cocktail Cake today and enjoy a slice of nostalgia?