Potbelly oatmeal chocolate chip cookie recipe is an excellent recipe for the cookie that can indulge your sweet tooth with our irresistible. This mouth-watering treat is the perfect combination of chewy oatmeal and rich chocolate chips, delivering a delightful burst of flavor in every bite.
With our easy-to-follow cookie recipes, you can whip up a batch of these scrumptious cookies in no time, whether you're a seasoned baker or a newbie in the kitchen. So grab your apron, preheat your oven, and get ready to satisfy your cravings with this delectable Potbelly-inspired dessert.
Want to impress your significant other with a delicious homemade meal? This recipe for a perfect meal is sure to do the trick: Kirkland Chocolate Chip Cookie Recipe: How to Make the Perfect Batch of Cookies
A Guide to Making the Perfect Potbelly Oatmeal Chocolate Chip Cookie Recipe
Ingredients: To create the ultimate batch of cookies, you will need to gather the following ingredients:
Two sticks (or one cup) of unsalted butter at room temperature
One cup of granulated sugar
One cup of light brown sugar
Two large eggs at room temperature
Two teaspoons of pure vanilla extract
Two cups of all-purpose flour
One teaspoon of baking powder
One teaspoon of baking soda
One teaspoon of salt
Two cups of old-fashioned rolled oats
Two cups of semisweet chocolate chips
Equipment Needed: Get ready to channel your inner chef as we equip ourselves with the following tools and equipment:
Two large mixing bowls
An electric mixer
Measuring cups and spoons
A rubber spatula
Baking sheets
Parchment paper
A cookie scoop or spoon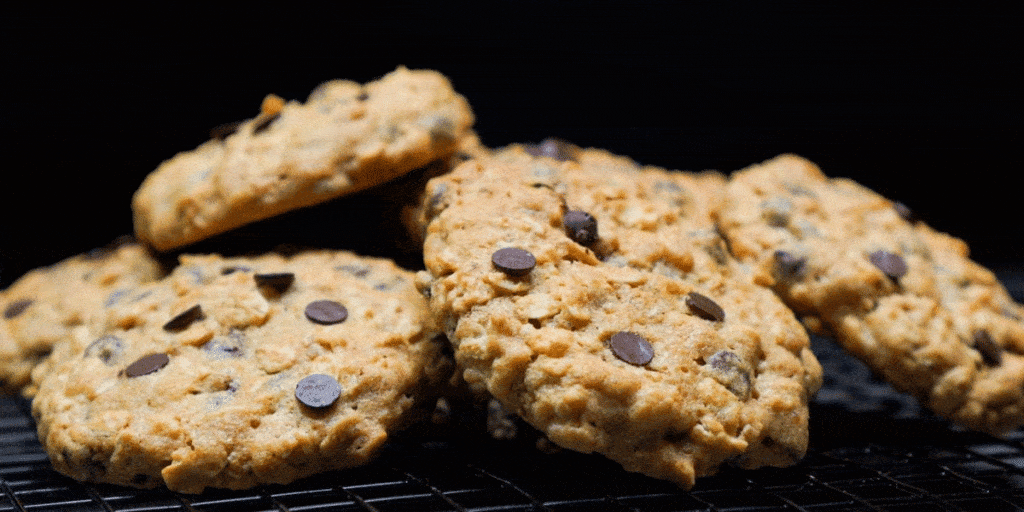 Instructions: Now, it's time to dive into the process of creating these heavenly cookies. Follow these step-by-step instructions:
Begin by preheating the oven to 350°F and preparing two baking sheets by lining them with parchment paper.
In a large mixing bowl, use an electric mixer to whip the butter, granulated sugar, and light brown sugar until the mixture turns light and fluffy.
Add the eggs to the mixture one at a time, followed by the vanilla extract, while beating gradually.
In a separate mixing bowl, combine the flour, baking powder, baking soda, and salt using a whisk. Add this mixture gradually to the butter mixture, beating it until the ingredients are just combined.
With a rubber spatula, stir in the oats and chocolate chips until they are evenly distributed throughout the dough.
Using either a cookie scoop or spoon, place the dough balls onto the lined baking sheets, ensuring there is adequate space between each ball.
Place the cookies in the oven and bake them for 12-15 minutes or until the edges turn a light golden brown and the centers become firm.
After achieving a state of cookie bliss in the oven, it's best to exercise patience and let them cool for approximately five minutes on the baking sheets before moving them to a wire rack to reach a state of complete coolness.
Delicious Variations to Try with Your Potbelly Oatmeal Chocolate Chip Cookie Recipe
If you want to switch up your meal rotation without spending hours in the kitchen, this recipe for a perfect meal is a great option: Great Value Chocolate Chip Cookie Recipe: The Best Ever!
Double Chocolate: For the chocolate lovers out there, try using both dark and milk chocolate chips in your cookie dough. The combination of the two creates a rich and decadent flavor that's hard to resist.
Nutty: Adding chopped nuts, such as pecans or walnuts, to your cookie dough can give it a crunchy texture and nutty flavor. Toasting the nuts beforehand will intensify their flavor and add a delicious aroma to your cookies.
Coconutty: For a tropical twist, try adding shredded coconut to your cookie dough. The chewy texture and sweet flavor of the coconut complement the chocolate chips perfectly.
Fruity: Dried fruit, such as raisins, cranberries, or chopped apricots, can add a fruity sweetness to your cookie dough. This variation is perfect for those who want a cookie that's not too sweet.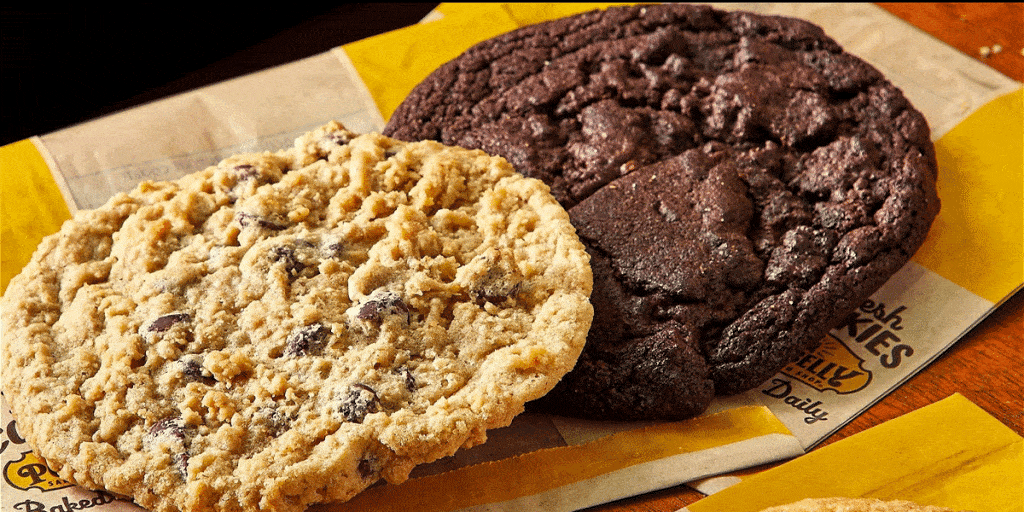 As for oatmeal variations, here are a few suggestions to take your cookie to the next level:
Cinnamon: Adding cinnamon to your cookie dough can give it a warm and comforting flavor. This variation is perfect for fall or winter baking.
Maple Syrup: For a sweet and indulgent twist, try adding maple syrup to your cookie dough. This will give your cookies a rich, caramel-like flavor that's sure to impress.
Honey: Another sweetener to try is honey. It adds a subtle sweetness to your cookies and also helps keep them moist and chewy.
Tips and Tricks for Baking Potbelly Oatmeal Chocolate Chip Cookies that Will Wow Your Friends and Family
Mixing the dough is the first step in making your potbelly oatmeal chocolate chip cookies. The key to getting the perfect dough consistency is to ensure that all the ingredients are at room temperature. Cold butter or eggs can cause the dough to be lumpy and difficult to mix.
Overmixing the dough can also lead to tough cookies, so be gentle when combining the ingredients. Mix until the dough just comes together and then stop. If you're using a stand mixer, use the lowest setting, and if you're mixing by hand, be sure to use a light hand.
Storing your cookies is essential to keep them fresh and delicious. To ensure these delectable treats maintain their peak freshness, it's imperative to store them in an airtight container at room temperature. With this simple precautionary measure, your cookies will remain at the pinnacle of their flavor and texture for up to five whole days. If you want to freeze the dough for later use, roll the dough into balls and place them on a baking sheet.
To ensure your cookies maintain their freshness for a longer duration, consider freezing them for 30 minutes before transferring them to a freezer-safe bag or container. When you're ready to bake, remove the dough balls from the freezer, place them on a baking sheet, and bake as usual.
Conclusion
Now that you've perfected your potbelly oatmeal chocolate chip cookie recipe, you might want to share your creations with others. Why not start your own bakery, like Peggy Ann Bakery, and offer these delicious cookies to your community? With a little creativity and a lot of hard work, you could be on your way to sharing the joy of homemade cookies with others.