The Godiva chocolate cheesecake recipe is one of the cheesecake recipes for a mouth-watering dessert that combines the richness of chocolate with the creaminess of the cheesecake. The recipe consists of making a crust, preparing the chocolate cheesecake filling, baking it, and garnishing it.
In the first recipe, the chocolate ganache is poured over the cheesecake, while in the second recipe, chocolate curls and fresh fruit can be used to add a touch of sophistication to the dessert. Whether you are looking to treat yourself or impress your guests, this dessert is easy to make and sure to satisfy your sweet tooth.
A Rich and Creamy Godiva Chocolate Cheesecake Recipe
Godiva chocolate cheesecake recipe! Follow these easy steps and get ready to indulge in a slice of heaven:
Preheat your oven to 325°F (165°C).
In a small bowl, mix 1 cup of graham cracker crumbs, 1/4 cup of granulated sugar, and 4 tablespoons of melted butter until well combined. Press the mixture into the bottom of a 9-inch springform pan.
In a large mixing bowl, beat 3 packages (24 ounces) of cream cheese and 1 1/4 cups of granulated sugar together until smooth and creamy.
Add in 3 large eggs, one at a time, beating well after each addition.
Mix in 1/2 cup of sour cream and 1 teaspoon of vanilla extract.
Melt 10 ounces of Godiva dark chocolate in a double boiler or microwave, and add it to the cheesecake mixture. Mix until well combined.
Pour the cheesecake mixture into the prepared crust and bake for 50-60 minutes, or until the center is set.
Let the cheesecake cool to room temperature, then refrigerate for at least 4 hours, or overnight.
To make the chocolate ganache, melt 6 ounces of Godiva dark chocolate and 1/2 cup of heavy cream in a double boiler or microwave. Mix until smooth and pour over the cheesecake.
Chill the cheesecake for another hour or until the ganache is set.
Finally, garnish the cheesecake with chocolate shavings, if desired.
This Godiva chocolate cheesecake is the ultimate dessert for any chocolate lover. The combination of creamy cheesecake and rich, velvety Godiva chocolate will leave your taste buds begging for more. Whether you're entertaining guests or just treating yourself, this recipe is sure to impress!
How to Make the Perfect Godiva Chocolate Cheesecake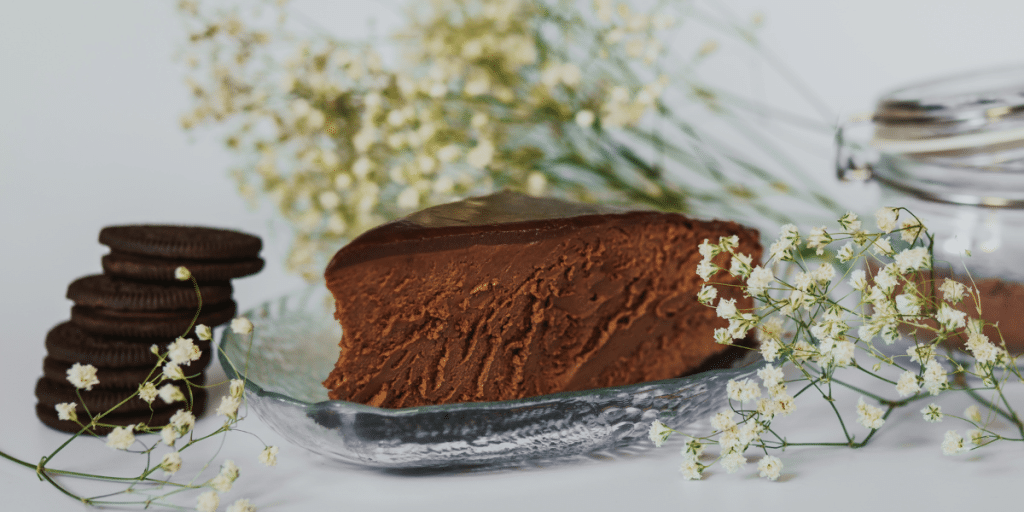 Dreaming of impressing your guests with a delectable dessert that tantalizes their taste buds and satisfies their cravings? Look no further than the perfect Godiva chocolate cheesecake, crafted with love and care in your very own kitchen.
First, we must begin with the crust. Combine 1 and 1/2 cups of graham cracker crumbs, 1/4 cup of granulated sugar, and 6 tablespoons of melted unsalted butter into a mixing bowl. Stir until fully combined, then firmly press the mixture into the bottom of a 9-inch springform pan. Bake this crust for 10 minutes at 350°F, allowing it to set a solid foundation for our chocolatey masterpiece.
Moving on to the pièce de résistance: the chocolate cheesecake filling. In a double boiler, melt 8 ounces of Godiva chocolate to smooth, velvety perfection. In a separate mixing bowl, beat 24 ounces of cream cheese until it's smooth and creamy. Gradually add in 1 and 1/4 cups of granulated sugar, followed by 4 eggs, one at a time, and 1 teaspoon of vanilla extract. Finally, fold in the melted chocolate until it's fully incorporated.
Pour the luxurious cheesecake filling over the pre-baked crust, smoothing it out to ensure even distribution. Pop it into the oven and bake for 60-70 minutes at 325°F. As it bakes, watch with anticipation as the edges set and the center remains slightly jiggly, a perfect indication that your cheesecake is coming together beautifully.
But wait, we're not done yet! When the cheesecake is fully baked, turn off the oven and let it cool inside with the door slightly open for 30 minutes. Once it's out of the oven, transfer it to a wire rack and let it cool completely before chilling it in the refrigerator for at least 4 hours. As it chills, the flavors will deepen and the texture will become even more decadent.
Finally, it's time to slice and serve. Top with whipped cream, chocolate shavings, or fresh berries to add a touch of whimsy and flair to your creation. With these simple steps, you'll have the perfect Godiva chocolate cheesecake that will leave your guests in awe and satisfy your sweetest desires.
Impress Your Guests with This Decadent Godiva Chocolate Cheesecake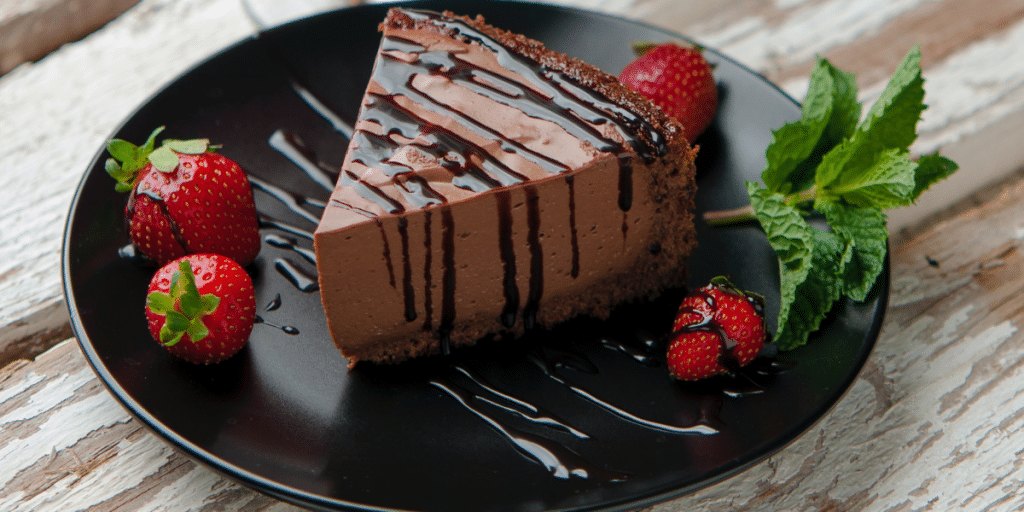 If you want to delight your guests with a dessert that is both indulgent and visually stunning, then look no further than this heavenly Godiva chocolate cheesecake. Not only is it sinfully rich and delectable, but it is also surprisingly effortless to prepare. The key to making this dessert truly exceptional lies in its presentation. Here are some creative ideas for decorating your cheesecake and wowing your guests:
Chocolate curls: Take a vegetable peeler and create luscious, velvety chocolate curls to scatter liberally over the top of the cheesecake. This will add a touch of glamour and sophistication to your dessert.
Fresh fruit: Arrange a colorful array of succulent berries around the edge of the cheesecake. The tangy sweetness of the fruit will perfectly balance the richness of the chocolate and add a burst of freshness to each bite.
When it comes to serving your Godiva chocolate cheesecake, you have a plethora of options. Here are some mouth-watering suggestions to consider:
Coffee: A piping hot cup of aromatic coffee is the perfect accompaniment to this rich and decadent dessert. The bitterness of the coffee will elegantly balance the sweetness of the cheesecake and create a harmonious blend of flavors.
Port: For a truly luxurious pairing, indulge your guests with a glass of fine port alongside their cheesecake. The deep, fruity notes of the wine will complement the chocolate perfectly and create a sublime gastronomic experience.
Ice cream: Elevate your dessert game to the next level by serving a scoop of premium vanilla ice cream alongside your cheesecake. The cool, creamy texture of the ice cream will wonderfully offset the richness of the chocolate and make every bite simply divine.
Lastly, if you want to simplify your life and make the dessert ahead of time, you can easily do so by preparing the cheesecake up to three days in advance and storing it in the fridge. Alternatively, you can even freeze the crust and ganache in advance and simply assemble the cheesecake on the day of your event. With these creative and sophisticated tips, you will be sure to dazzle your guests with a dessert that is both beautiful and delicious.
The Last Words
Godiva chocolate cheesecake is a heavenly treat that can satisfy the cravings of any chocolate lover. With its rich and velvety texture, creamy cheesecake filling, and decadent chocolate flavor, this dessert is sure to impress your guests and leave them asking for more.
Whether you choose to garnish it with chocolate shavings or fresh fruit, the possibilities for decorating and serving this dessert are endless. So, indulge yourself and your loved ones with this scrumptious dessert, and let the magical combination of Godiva chocolate and cheesecake take your taste buds to the next level. For more information, reach out to us – the article above has been made available by Peggy Ann Bakery.